How to Choose a Roofing Contractor: 7 Helpful Hints
Are you thinking of getting your roof repaired or replaced? Are you looking for a roofing contractor? Well, if you think your roof is calling you and it's about time you pay attention to your roof then it is good to choose from amongst the best roofing contractors in Irving Texas for your work. Need guidance choosing a roofing contractor? Here are a few helpful hints: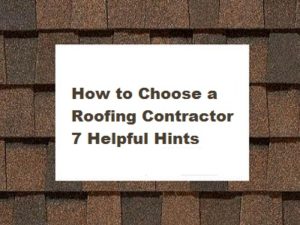 1.Local Referrals – When you choose a roofing contractor from your own community then the chances of any scams or problems reduces majorly. In addition to this, they are accustomed to local rules and regulations. You may go for professional contractors alike Irving Roofing Pro.
2.Better Business Bureau Ratings – Better Business Bureau or BBB ratings are another reliable source to know which roofing contractors are good. There can be some unprofessional roofing contractors who just come looking for work after a storm or when they see some damage. Don't buy into their lucrative deals. Check the score first on the BBB website.
3.Check License and Insurance – A roofing contractor who hasn't insured his employees and subcontractors isn't a secure option. He should be able to provide a copy of their insurance certificate. Further, most of the states in the country require a license for the contractors so be sure to check the license of your contractor and his status online.
4.Manufacturer Designations – You should also check the manufacturer's designation of the roofing contractor. A manufacturer designation is a badge of honor for the roofing contractors, this is because they are required to pass certain minimum requirements in order to be factory certified.
5.Look for Warranty – Warranty is a must. But unfortunately, not all the roofing contractors provide a manufacturer's warranty. In the absence of a warranty, any damages which become visible later will have to be fixed by the customer personally. So, it advisable to look for roofing contractors who are able to provide a warranty for their work.
6.Material Options – A roofing contractor who isn't offering you a variety of material to choose from, might not be a suitable option. The color and style of shingles you opt for will increase or decrease your overall expenses. Moreover, the material used also determines the strength and durability of your roof.
7.Don't be Pressurized – At the end, don't give in to pressure. There are many roofing contractors who will try to manipulate you or pressure you by creating a hype about their services. They might coerce you to sign the contract just to fulfil their motives. Better watch out for such contractors.